Frequently asked questions
Where are these products made?
---
All of the prodcuts from Nazar PPE Supply are manufacutured in Turkey. No materials or components used in the manufacturing of these products are sourced from China or other nations.
---
What are your product certifications?
---
Our products conform with ISO* certifications, are CE** Certified and currently imported to the United States under the FDA's Emergency Use Autorization exemptions. We are not yet FDA registered nor have our products recieved 510K classification because of the significant time required to recieve this certification and our desire to meet the immediate needs in the U.S.A.. That being said, none of these products are low-quality knock-offs, they are high-quality products produced in Turkey. * The ISO, International Organization for Standardization, develops specifications for products, services, systems and procedures by which they can measure their level of excellence. ** CE marking indicates that a product has been assessed and deemed to meet EU safety, health and environmental protection requirements. It is required for products manufactured anywhere in the world that are then marketed in the EU.
---
Can you handle large scale orders?
---
Yes! Because we work directly with the manufacturers we are able to handle orders of any size in a timely manner. Please contact us with our contact us form for orders over 100,000 pieces.
---
Do you follow ethical working conditions?
---
We can affirm that our Turkish manufacturing partners only employ fair labor practices, market level pay and safe working conditions.

---
Are your products really available for shipping immediately?
---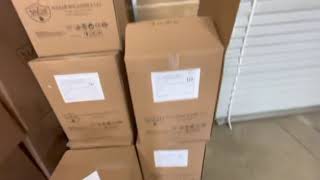 Here is a video showing our storage facility in Madison Wisconsin, December 2020.
---
---